AntiCapsLock
Last update: 21.3.2012

With this program thINGS lIKE tHIS will not ever happen to you. AntiCapsLock can disable CAPS LOCK key or tell it to behave as another key (SHIFT, CTRL, Windows key). Still, you can continue using CAPS LOCK (select a key combination to toggle CAPS LOCK – e.g. SHIFT + CAPS LOCK). AntiCapsLock can also disable Num Lock and Scroll Lock

The registered version also saves (remembers) your setting and restores them every time Windows is started.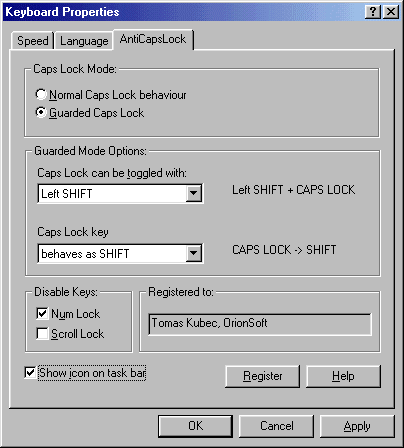 Features
You can select one of two basic modes: Normal and Guarded.
If you decide to use the Normal one, Caps Lock behaves as always. On the other hand, the Guarded mode prevents you from accidental pressing of Caps Lock.
In the Guarded mode, you can select a toggle key and you may also want to remap Caps Lock (tell it to behave as another key).
If you press a toggle key together with CAPS LOCK key, you can switch CAPS LOCK even if it is disabled or redefined (remapped). Possible key combinations are:
Left Shift + CAPS LOCk key
Right Shift + CAPS LOCk key
ALT + CAPS LOCk key
You can tell CAPS LOCK key to behave as:
Shift
Control (for UNIX users)
Windows Key (for older keyboards)
In the "Disable Keys" box, you can disable Num Lock and Scroll Lock keys. If you want to, a small icon is displayed on taskbar for quick acces to keyboard properties.

Registration
Registration of AntiCapsLock is very easy and costs USD 10 only. It provides you free support, free upgrades and – at last but not at least – registered AntiCapsLock restores your last settings during next start of Windows. You can just switch on your computer and start typing.

To register send $10 to


Tomas Kubec OrionSoft Dejvicka 36 160 00 Praha 6 Czech Republic – Europe


Include your name and postal address. Your Name and Code information will be sent to you by mail or by e-mail if you include an e-mail address.

You can pay by:
Cash (opaque envelope recommended)
Eurocheque (used mostly in European countries)
Check or international money order (IMO) – please add $1.50 (bank cashing fee) to the price.
Payment from an account (Please, contact us for more information)
---
&copy 2003 OrionSoft